Better Off Friends
by Elizabeth Eulberg
WHEN HARRY MET SALLY . . . for teens, from romantic comedy star Elizabeth Eulberg.
For Macallan and Levi, it was friends at first sight. Everyone says guys and girls can't be just friends, but these two are. They hang out after school, share tons of inside jokes, their families are super close, and Levi even starts dating one of Macallan's friends. They are platonic and happy that way.
Eventually they realize they're best friends -- which wouldn't be so bad if they didn't keep getting in each other's way. Guys won't ask Macallan out because they think she's with Levi, and Levi spends too much time joking around with Macallan, and maybe not enough time with his date. They can't help but wonder . . . are they more than friends or are they better off without making it even more complicated?
From romantic comedy superstar Elizabeth Eulberg comes a fresh, fun examination of a question for the ages: Can guys and girls ever really be just friends? Or are they always one fight away from not speaking again -- and one kiss away from true love?
Burn Bright
by Bethany Frenette
Audrey Whitticomb saved her entire city.

Well, kind of. The superhero Morning Star (who just happens to be Audrey's mom) might have played a small part, and her sidekick, Leon-Audrey's sort-of boyfriend, who is gorgeous and frustrating-maybe helped, too.

But after two peaceful months, there is a vicious new threat in Minneapolis. Her name is Susannah, and she's a Harrower, a demon hell-bent on destroying people like Morning Star, Leon, and Audrey-the Kin. Like others before her, she seeks the Remnant, a Kin girl who has the power to unleash the inhabitants of the Beneath. But to what end?

Audrey already has a ton on her plate: dealing with her best friend Tink's boy drama, helping her other best friend Gideon figure out his nightmares, and exploring the highs and lows of "dating" Leon. But when she develops a powerful new ability, Audrey seizes on the chance to fight, despite her mother's protests and Leon's pleas.

As Audrey gets closer to figuring out Susannah's motives and tracking down the Remnant, she'll uncover more than she bargained for. The terrible truth is staring Audrey in the face. But knowing the truth and accepting it are very different things.
Faking Normal
by Courney C. Stevens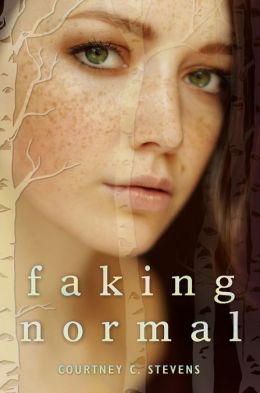 An edgy, realistic debut novel praised by the New York Times bestselling author of Between Shades of Gray, Ruta Sepetys, as "a beautiful reminder that amid our broken pieces we can truly find ourselves."
Alexi Littrell hasn't told anyone what happened to her over the summer by her backyard pool. Instead, she hides in her closet, counts the slats in the air vent, and compulsively scratches the back of her neck, trying to make the outside hurt more than the inside does.
When Bodee Lennox—"the Kool-Aid Kid"—moves in with the Littrells after a family tragedy, Alexi discovers an unlikely friend in this quiet, awkward boy who has secrets of his own. As their friendship grows, Alexi gives him the strength to deal with his past, and Bodee helps her summon the courage to find her voice and speak up.
Fifty First Times (New Adult Anthology)
by Various Authors
You always remember your first time...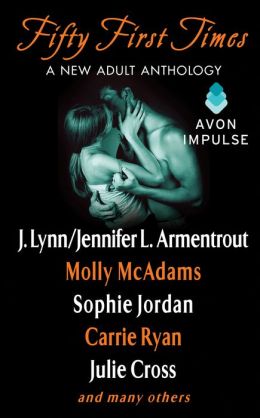 Whether it's the couple who decides not to go through with it, the two boys who finally aren't ashamed, the newlyweds whose wedding night could very well be their last night together, the deaf pair who have no choice but to take body language to a new level--or, of course, the two young lovers fumbling and laughing, getting everything wrong. These are the memories that will never fade.
Join nineteen fantastic authors as they pull back the curtain and give you a peek inside that one intense moment in their characters' lives when everything changes and nothing will ever be the same again.
Featuring stories from some of the hottest names in New Adult, Young Adult, and Romance including New York Times Bestselling authors J.Lynn/Jennifer Armentrout, Molly McAdams, Sophie Jordan, and Carrie Ryan.
NOTE: These stories are works of fiction. If you want to know about our first times, you'll have to buy us a pet monkey first.
Fire & Flood
by Victoria Scott
A pulse-pounding thrill ride, where a teen girl must participate in a breathtaking race to save her brother's life--and her own.
Time is slipping away. . . .
Tella Holloway is losing it. Her brother is sick, and when a dozen doctors can't determine what's wrong, her parents decide to move to the middle of nowhere for the fresh air. She's lost her friends, her parents are driving her crazy, her brother is dying--and she's helpless to change anything.
Until she receives mysterious instructions on how to become a Contender in the Brimstone Bleed. It's an epic race across jungle, desert, ocean, and mountain that could win her the prize she desperately desires: the Cure for her brother's illness. But all the Contenders are after the Cure for people they love, and there's no guarantee that Tella (or any of them) will survive the race.
The jungle is terrifying, the clock is ticking, and Tella knows she can't trust the allies she makes. And one big question emerges: Why have so many fallen sick in the first place?
Victoria Scott's breathtaking novel grabs readers by the throat and doesn't let go.
Grandmaster
by David Klass
Freshman Daniel Pratzer gets a chance to prove himself when the chess team invites him and his father to a weekend-long parent-child tournament. Daniel, thinking that his father is a novice, can't understand why his teammates want so badly for them to participate. Then he finds out the truth: as a teen, his father was one of the most promising young players in America, but the pressures of the game pushed him too far, and he had to give up chess to save his own life and sanity. Now, thirty years later, Mr. Pratzer returns to the game to face down an old competitor and the same dark demons that lurk in the corners of a mind stretched by the demands of the game. Daniel was looking for acceptance—but the secrets he uncovers about his father will force him to make some surprising moves himself, in Grandmaster by David Klass.
Grim
by Ellen Hopkins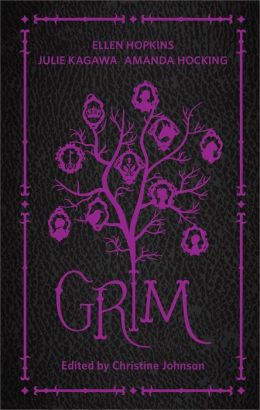 Inspired by classic fairy tales, but with a dark and sinister twist, Grim contains short stories from some of the best voices in young adult literature today:
Sarah Rees-Brennan
Jackson Pearce
Killer Frost (Mythos Academy #6)
by Jennifer Estep
I've battled the Reapers of Chaos before—and survived. But this time I have a Bad, Bad Feeling it's going to be a fight to the death. . .most likely mine.
Yeah, I've got my psychometry magic, my talking sword, Vic, and even the most dangerous Spartan on campus at my side in Logan freaking Quinn, but I'm no match for Loki, the evil Norse god of chaos. I may be Nike's Champion, but at heart, I'm still just Gwen Frost, that weird Gypsy girl everyone at school loves to gossip about.
Then someone I love is put in more danger than ever before, and something inside me snaps. This time, Loki and his Reapers are going down for good . . . or I am.
Night Owls
by Lauren M. Roy
Night Owls bookstore is the one spot on campus open late enough to help out even the most practiced slacker. The employees' penchant for fighting the evil creatures of the night is just a perk…
Valerie McTeague's business model is simple: provide the students of Edgewood College with a late-night study haven and stay as far away as possible from the underworld conflicts of her vampire brethren. She's experienced that life, and the price she paid was far too high for her to ever want to return.
Elly Garrett hasn't known any life except that of fighting the supernatural beings known as Creeps or Jackals. But she always had her mentor and foster father by her side—until he gave his life protecting a book that the Creeps desperately want to get their hands on.
When the book gets stashed at Night Owls for safekeeping, those Val holds nearest and dearest are put in mortal peril. Now Val and Elly will have to team up, along with a mismatched crew of humans, vampires, and lesbian succubi, to stop the Jackals from getting their claws on the book and unleashing unnamed horrors…
Rio 2 Junior Novel
by Christa Roberts
From the creators of Ice Age and Epic, Rio 2 flies into theaters in April 2014. Join Blu, Jewel, and all your favorite Rio characters for a wild adventure perfect for young fans!
When Linda and Tulio spot a blue Spix's Macaw deep in the Amazon jungle, Blu and Jewel pack up their family and fly off to help locate more of their species. Jewel is eager for the kids to know more about life in the wild, but Blu is a little overwhelmed. The jungle is full of surprises. There are new friends to meet, new places to explore, and some cool, new jungle grooves!
Rio 2: The Junior Novel retells the whole exciting story and features eight pages of full-color images from the film!
Take A Chance
by Abbi Glines
From #1 New York Times bestselling author Abbi Glines comes the story of Grant, the sexy playboy who first captured readers' hearts in Fallen Too Far.
When Harlow Manning's rocker father goes on tour, he sends her to Rosemary Beach, Florida, to live with her half-sister, Nan. The problem: Nan despises her. Harlow has to keep her head down if she wants to get through the next nine months, which seems easy enough. Until gorgeous Grant Carter walks out of Nan's room in nothing but his boxer briefs.
Grant made a huge mistake getting involved with a girl with venom in her veins. He'd known about Nan's reputation, but still he couldn't resist her. Nothing makes him regret the fling more than meeting Harlow, who sends his pulse racing. Yet Harlow wants nothing to do with a guy who could fall for her wicked half-sister—even if there are no strings between Grant and Nan. Grant is desperate to redeem himself in Harlow's eyes, but did he ruin his chances before he even met her?
Abbi Glines is the New York Times, USA TODAY, and Wall Street Journal bestselling author of Fallen Too Far and Never Too Far, in addition to several young adult novels. A devoted booklover, Abbi lives with her family in Alabama. She maintains a Twitter addiction at @AbbiGlines and can also be found on Facebook and at AbbiGlines.com.
The Hit
by Melvin Burgess
Live the ultimate high. Pay the ultimate price. The shocking return to YA by the author of SMACK.
A new drug is on the street. Everyone's buzzing about it. Take the hit. Live the most intense week of your life. Then die. It's the ultimate high at the ultimate price. Adam thinks it over. He's poor, and doesn't see that changing. Lizzie, his girlfriend, can't make up her mind about sleeping with him, so he can't get laid. His brother Jess is missing. And Manchester is in chaos, controlled by drug dealers and besieged by a group of homegrown terrorists who call themselves the Zealots. Wouldn't one amazing week be better than this endless, penniless misery? After Adam downs one of the Death pills, he's about to find out.
The Secret Diamond Sisters
by Michelle Madow
Savannah. Courtney. Peyton.
The three sisters grew up not knowing their father and not quite catching a break. But it looks like their luck is about to change when they find out the secret identity of their long-lost dad—a billionaire Las Vegas hotel owner who wants them to come live in a gorgeous penthouse hotel suite. Suddenly the Strip's most exclusive clubs are all-access, and with an unlimited credit card each, it should be easier than ever to fit right in. But in a town full of secrets and illusion, fitting in is nothing compared to finding out the truth about their past.
The Undead Pool (Rachel Morgan Series #12)
by Kim Harrison
#1 New York Times bestselling author Kim Harrison returns to the supernatural adventures of Rachel Morgan in the penultimate book of the Hollows series
Witch and day-walking demon Rachel Morgan knows magic—earth, ley line, even the forbidden demon magic—and that knowledge has saved her life more than once. But now something—or someone—is attacking Cincinnati and the Hollows, causing spells to backfire or go horribly wrong while living vampires attack humans and Inderlanders alike.
The pressures build when the city is quarantined to contain the unreliable magic, and Rachel must stop the attacks before the undead vampire masters who keep the rest of the undead under control are lost and it becomes all-out supernatural war.
The only way to do so is through the ancient elven magic, but that carries its own perils—for magic always has a price, and gods do not come lightly when called.
Tin Star
by Cecil Castellucci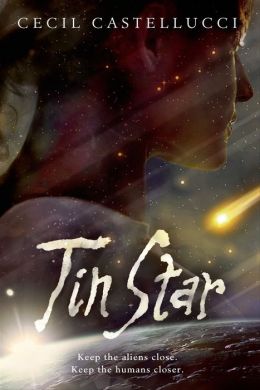 On their way to start a new life, Tula and her family travel on the Prairie Rose, a colony ship headed to a planet in the outer reaches of the galaxy. All is going well until the ship makes a stop at a remote space station, the Yertina Feray, and the colonist's leader, Brother Blue, beats Tula within an inch of her life. An alien, Heckleck, saves her and teaches her the ways of life on the space station.
When three humans crash land onto the station, Tula's desire for escape becomes irresistible, and her desire for companionship becomes unavoidable. But just as Tula begins to concoct a plan to get off the space station and kill Brother Blue, everything goes awry, and suddenly romance is the farthest thing from her mind.
Unforgotten
by Jessica Brody
Some memories are better left forgotten
After a daring escape from the Diotech scientists who created her, Seraphina and Zen believe they are finally safe from the horrors of her past. But new threats await them at every turn as Zen falls prey to a mysterious illness and Sera's extraordinary abilities make it more and more difficult to stay hidden. Meanwhile, Diotech has developed a dangerous new weapon designed to apprehend Sera. A weapon that even Sera will be powerless to stop. Her only hope of saving Zen's life and defeating the company that made her is a secret buried deep within her mind. A secret that Diotech will kill to protect. And it won't stay forgotten for long. Packed with mystery, suspense, and romance, Unforgotten is the riveting second installment of Jessica Brody's Unremembered trilogy, and delivers more heart-pounding action as loyalties are tested, love becomes a weapon, and no one's memories are safe.
White Hot Kiss
by Jennifer Armentrout
Seventeen-year-old Layla just wants to be normal—fit in at school, and go out on a real date with the gorgeous Zayne, whom she's crushed on since forever. Trouble is, Zayne treats Layla like a sister—and Layla is anything but normal. She's half demon, half gargoyle, with abilities no one else possesses. And even though Zayne is a Warden, part of the race of gargoyles tasked with hunting demons and keeping humanity safe, Layla's kiss will kill anything with a soul—including him.
Then she meets Roth—a tattooed, sinfully hot demon who claims to know her secrets. Though Layla knows she should stay away, it's tough when that whole no-kissing thing isn't an issue. Trusting Roth could ruin her chances with Zayne—and brand her a traitor to the Warden family that raised her. But as Layla discovers she's the sole reason for a violent demon uprising, kissing the enemy suddenly pales in comparison to the looming end of the world
Wrong Number 2
by R.L. Stine
The sequel to one of the most popular Fear Street titles, with nearly 500,000 copies in print. Deena and Jade are up to their old tricks, despite their vow to stop the phone pranks. Then the ominous call comes: "I'm getting out soon," the voice says, "and when I do, I'll come after you." Now the girls fear someone is out to kill them!
Year of Mistaken Discoveries
by Eileen Cook
Friendship is a bond stronger than secrets in this novel from the author of The Almost Truth and Unraveling Isobel.
As first graders, Avery and Nora bonded over a special trait they shared—they were both adopted.
Years later, Avery is smart, popular, and on the cheerleading squad, while Nora spends her time on the fringes of school society, wearing black, reading esoteric poetry, and listening to obscure music. They never interact...until the night Nora approaches Avery at a party, saying it's urgent. She tells Avery that she thought she found her birth mom—but it turned out to be a cruel lie. Avery feels for Nora, but returns to her friends at the party.
Then Avery learns that Nora overdosed on pills. Left to cope with Nora's loss and questioning her own actions, Avery decides to honor her friend by launching a search for her own birth mother. Aided by Brody, a friend of Nora's who is also looking for a way to respect Nora's legacy, Avery embarks on an emotional quest. But what she's really seeking might go far deeper than just genetics…
February 26th Release
The Little Rabbit
by Judy Dunn
Full-color photographs. "The warm, cuddly world of a real rabbit family is introduced to young readers in enchanting photographs."--Children's Books of the Year, Child Study Assn.
Sarah's Easter gift rabbit becomes her constant companion and eventually gives birth to seven little bunnies.
What a great week for book releases! I really anticipate the release of Take A Chance and White Hot Kiss the most! Those ladies are two of my favorite authors :) I know I'm not alone in that. So I also added The Little Rabbit on the list cause I use to have this book when I was a child and thought maybe some of you out there might like this for your young child. It really is cute and has adorable pictures of bunnies in it. So that just brought back memories for me so I figured that I would pass that on. So what are you excited about that is releasing this week? I'd love to hear from you!!
Happy Reading and I hope that everyone has a great week!!
If I missed any books coming out this week that you think should be added to the list, just email me or leave a comment and I'll get it taken care of.